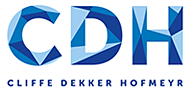 POPI – when it becomes fully operative , will regulate the collection, storage and
dissemination of personal information.  This Special Alert has been compiled by CDH's POPI specialists and will provide you with some insight into the implications which POPI may have on you and your organisation.
There are practical implications of POPI on the Real Estate industry.
Click on the link below to find access the document:-
popi_bumper_special_alert_1594655994